Sales management
You deliver the best products and services and you want to maintain the same high level of contact with all potential customers. You want to increase the productivity of your entire sales team, as quality salespeople are not easy to find and they don't come for free. You want to involve key experts in your company. You want to create professional price quotes easily. You want to have all your customer data in one place. You don't want to miss a single business case. You don't see the point in spending time on unnecessary reporting.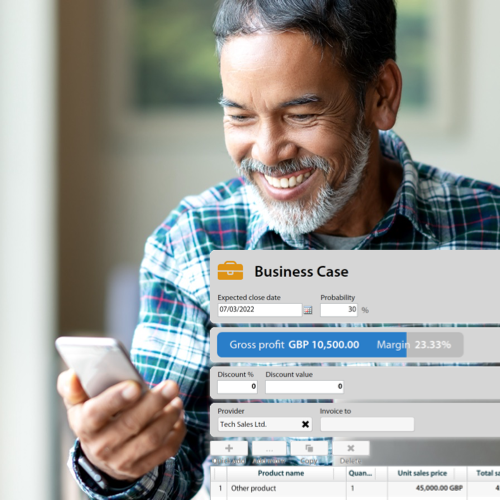 Be closer to your customers
Your ability to sell depends on your knowledge of the customer. Having both financial and non-financial customer data in one place facilitates a more productive sales conversation. It makes the salesperson more relevant and knowledgeable in communicating with the customer, both existing and potential.
Automate all routines
Focus on delivering value to the customer and leave the routine to the automats. From importing enquiries from the web, to automated customer evangelism, automated appointment reminders, distributing meeting minutes, to creating documents in your company's corporate identity.
We help you stay unique and differentiate yourself from the competition
ATOLLON has unparalleled features - it simplifies the business process in the context of your entire company and allows you to create your own applications on the fly. With ATOLLON, you get exactly the applications you need to manage the entire customer lifecycle.
You will not enter any data twice
ATOLLON has a wide range of synchronization tools for the most commonly used accounting, payroll and warehouse systems. Thanks to ATOLLON, no one will enter any data in the company twice and salespeople will get important data from the accounting system for customer meetings.
E-mails
No enquiry will ever fall through the cracks. Colleagues from other teams will easily join the conversation. Templates help you increase your productivity. You'll always find the customer conversation where it should be (in the business case folder).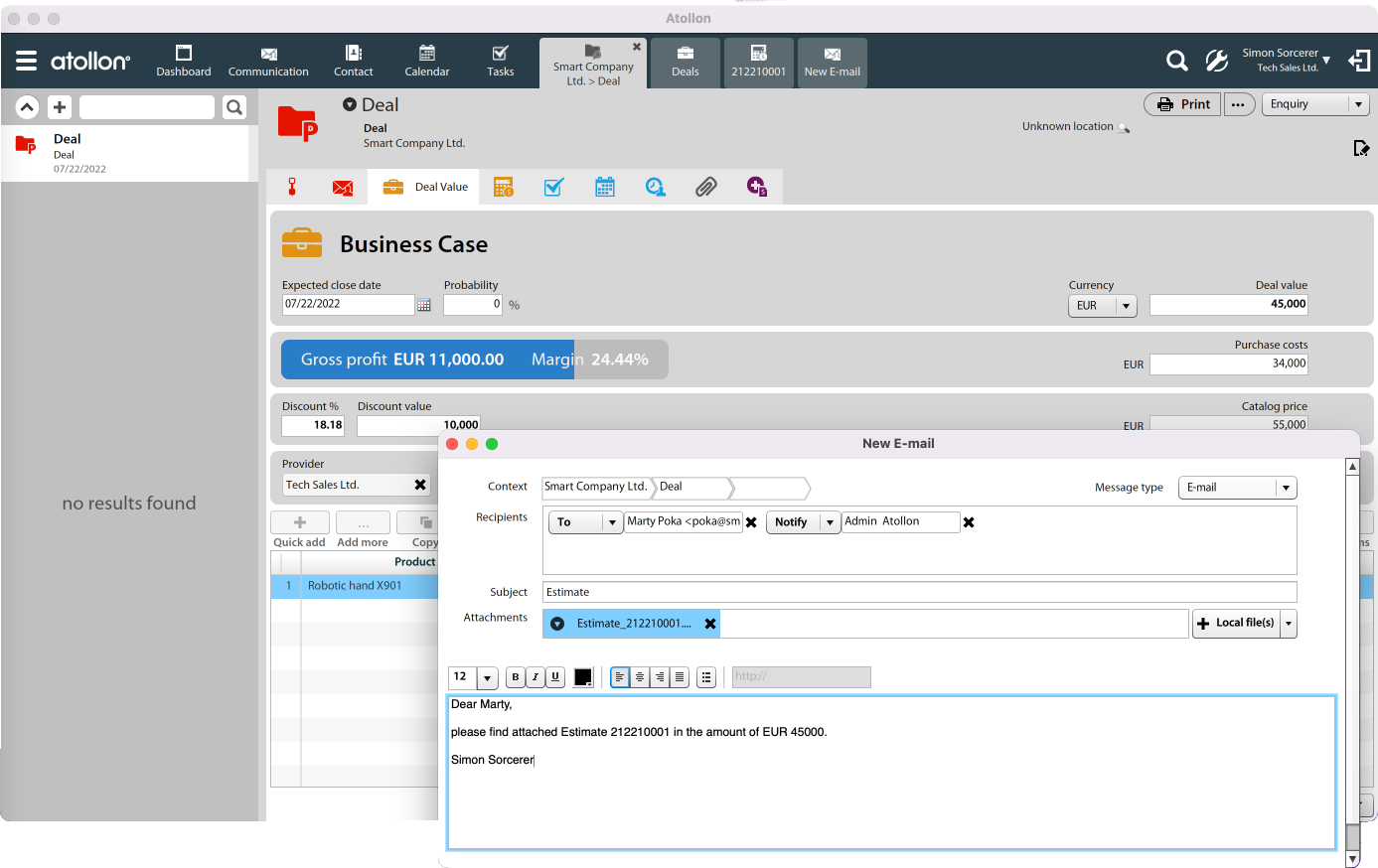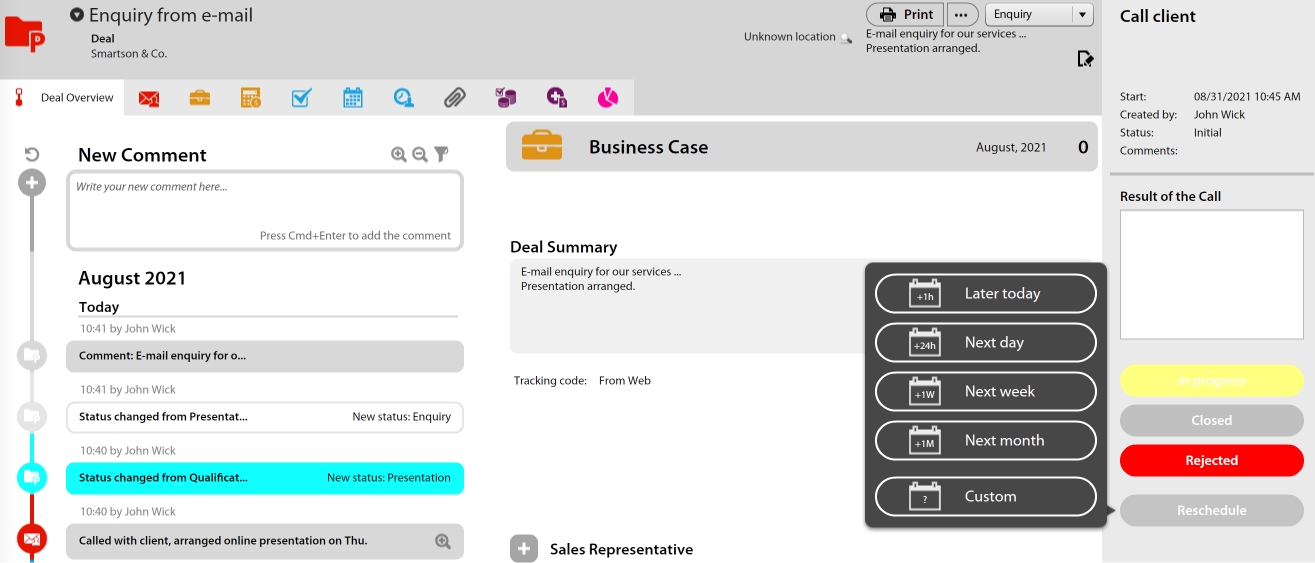 Calls
Accelerate phone contact - with the integrated "Call Center" tool designed to increase sales productivity, you can set aside an hour of focused calling every day. You deal with nothing but phone calls - one after the other, regardless of the customer stage and type of business case. Calling becomes fun for you.
Meetings
The spice that enlivens every business relationship. Thanks to the link to the context of the business case, you can always find the necessary documents at 1 click. Atollon will help you take professional care of the meeting preparation process. Your events won't fall behind thanks to bi-directional synchronization with mobile phones (using CalDAV). At the click of a button, you can prepare meeting minutes that are immediately available for sending to the customer or as a basis for business development.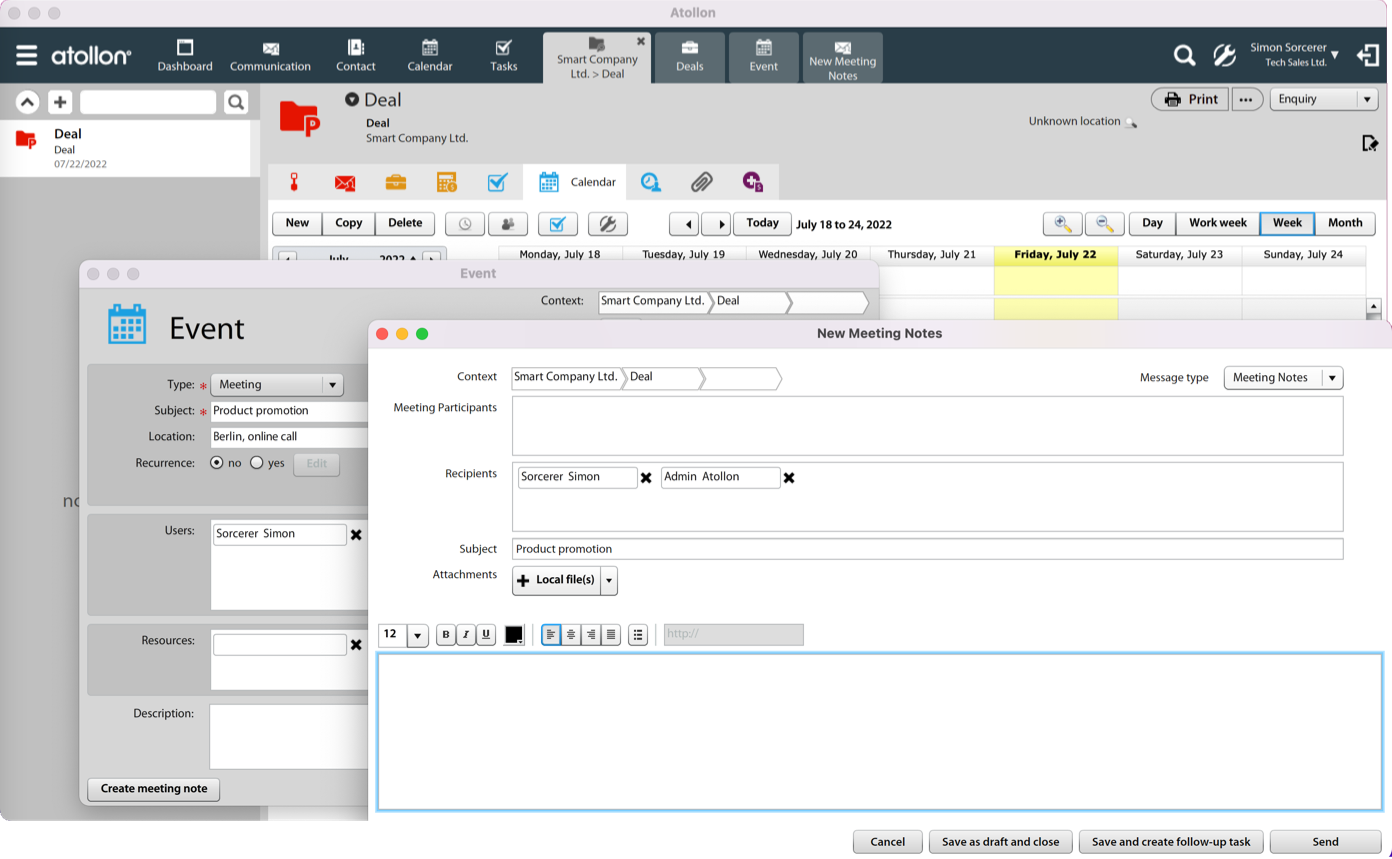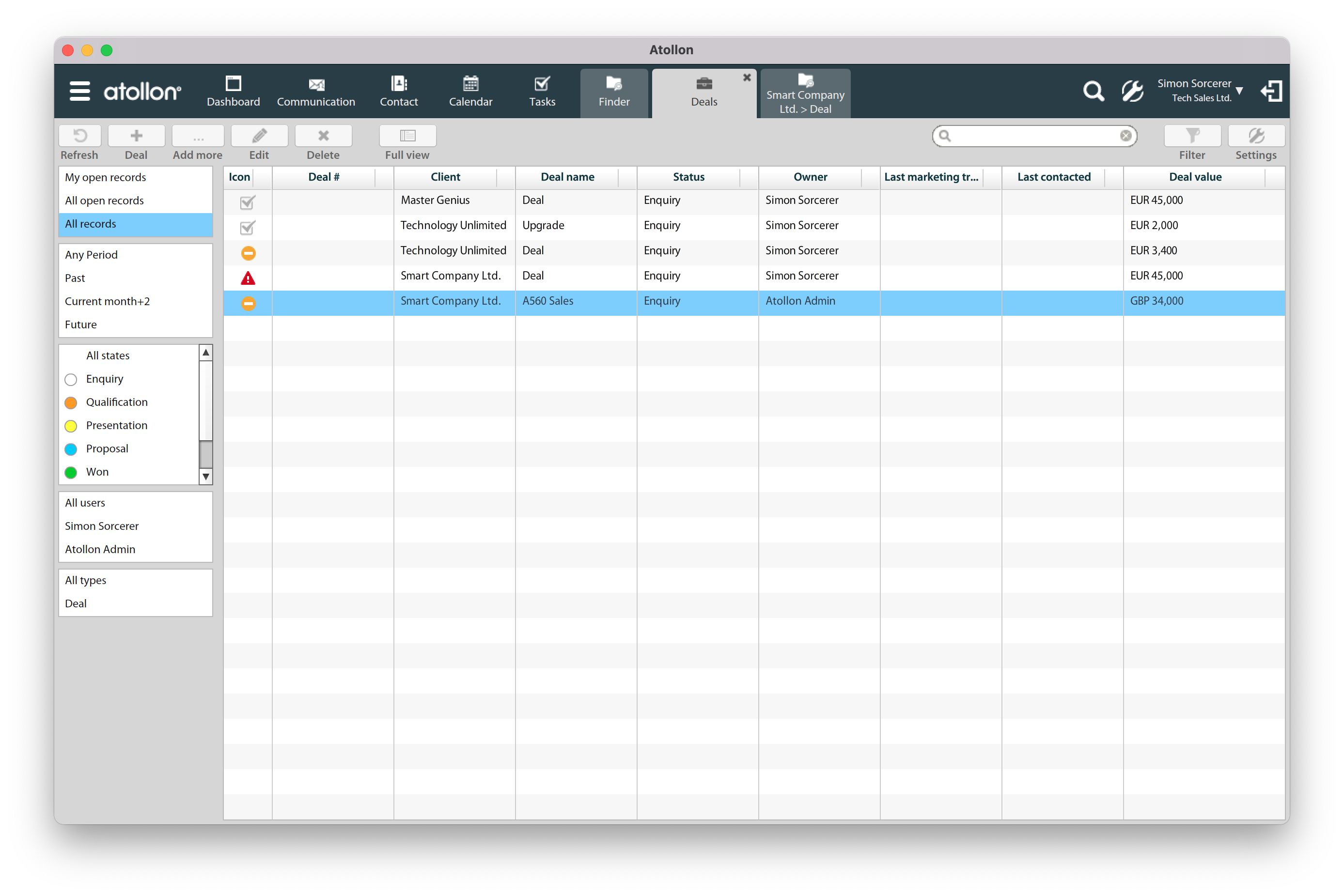 Business cases
You won't miss a single opportunity. A clear table of business cases helps you to focus on the business cases you currently need to address. By status, opportunity value, potential client activity or indication of next step. It's your tool for absolute focus on the bottom line.
Price quotations
Easily create and send a simple job quote - either from business case items or simply ad-hoc. You can customise the ready-made print templates; a template created in MS Word can also be used as a template, but you can send it to the client as a PDF.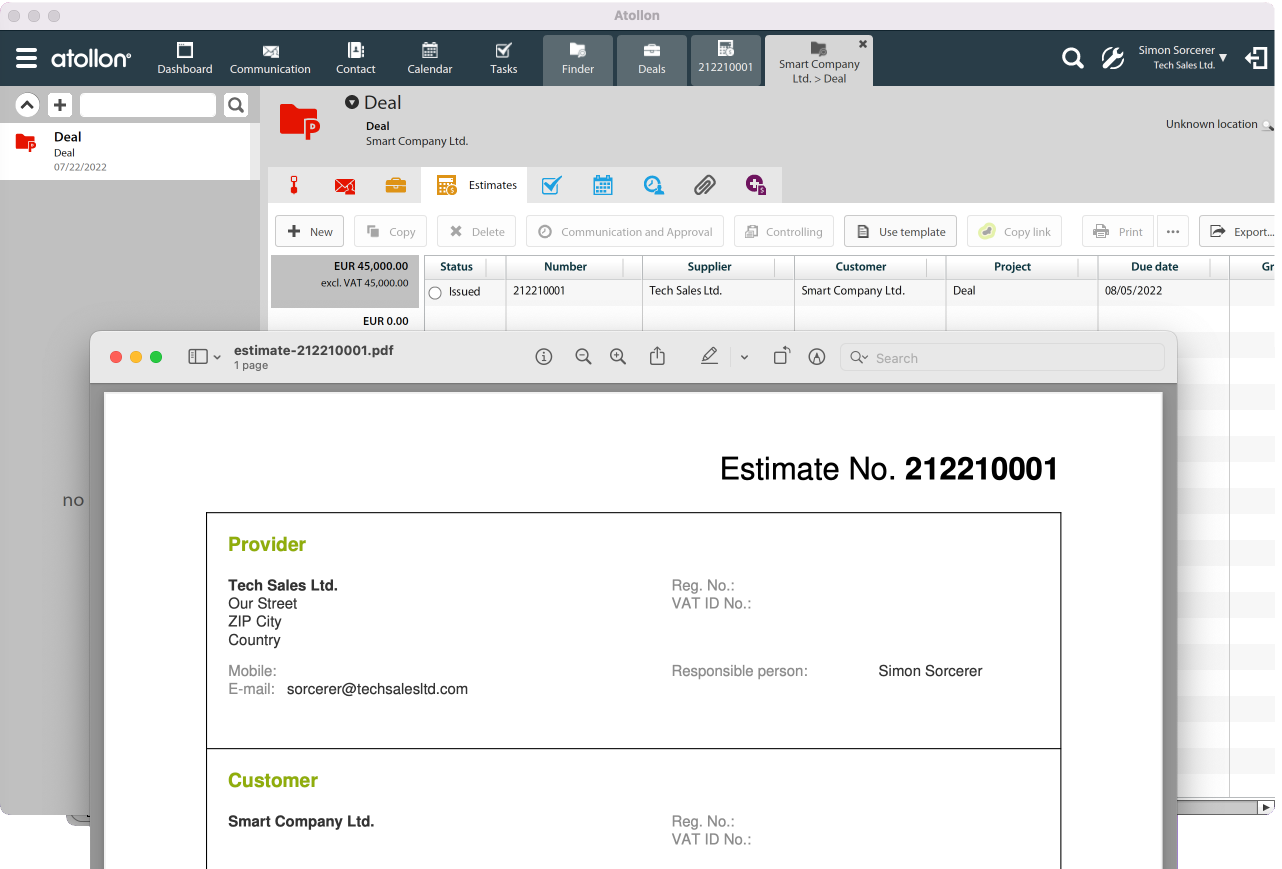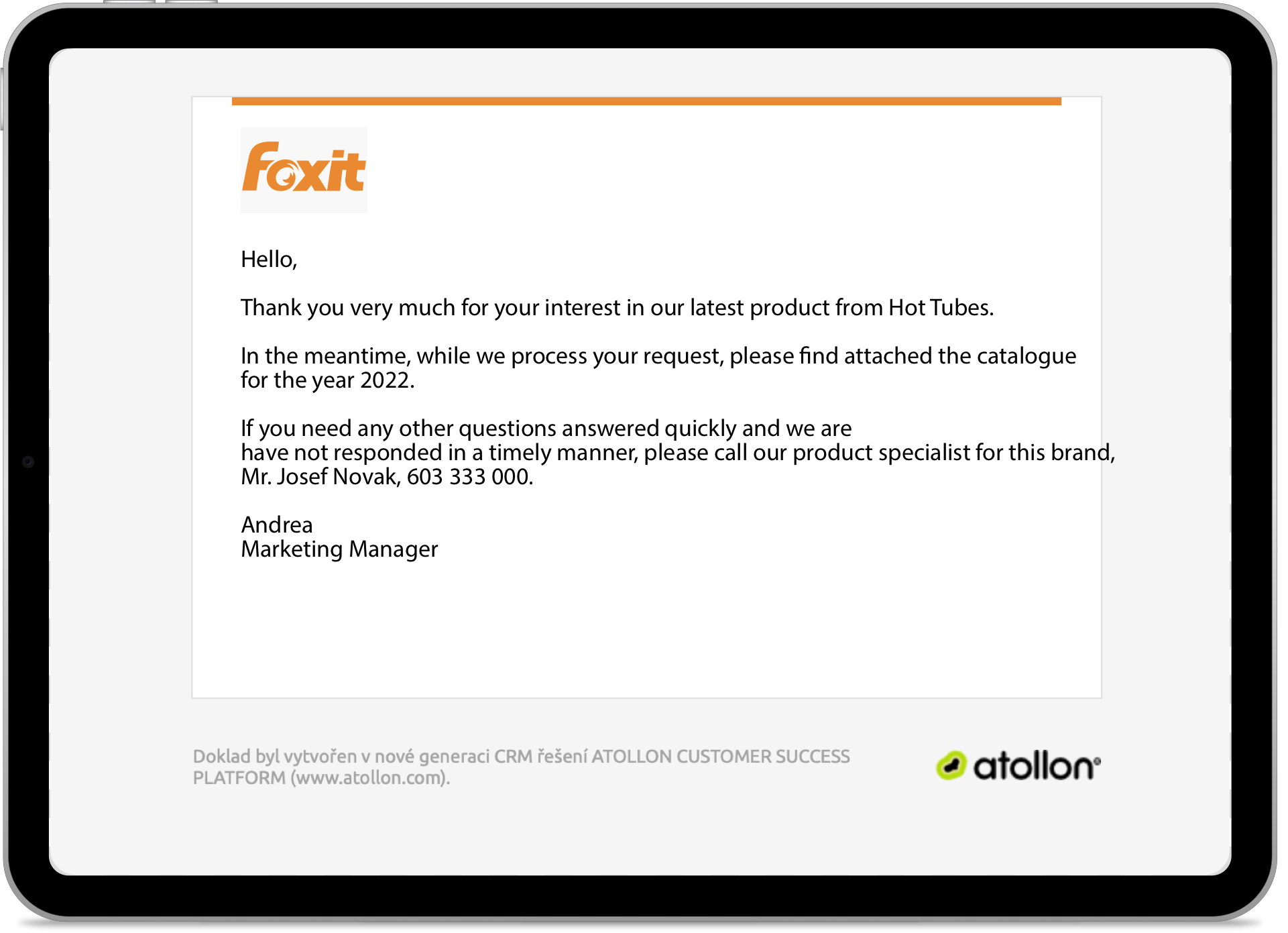 Automation
Email cadences, automatic reports, event-based email alerts. Any business routine is easily automated so that the marketer can focus solely on selling and delivering value to the customer.
Reporting
Automate business reporting. Instead of spending unnecessary time on administration, do the business. ATOLLON creates the sales reports for you because you are working in it (sending emails, making phone calls, creating meeting minutes).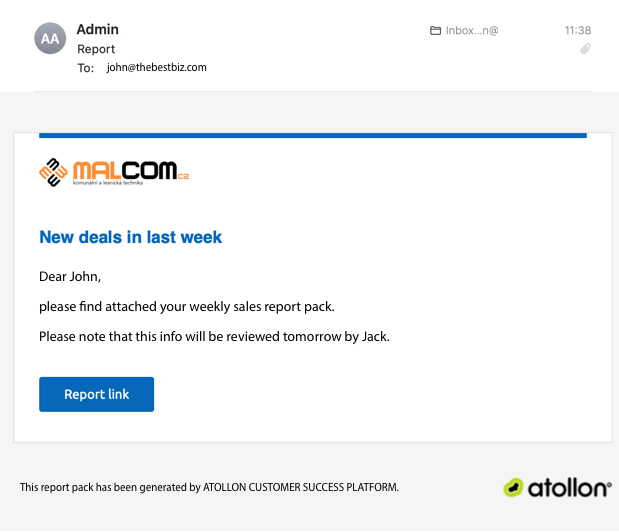 Case studies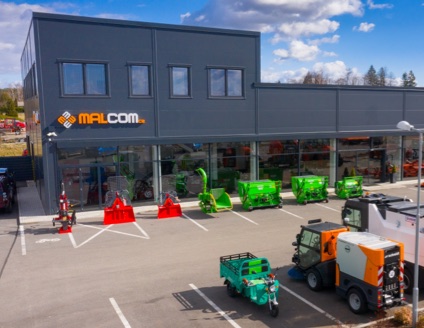 How we help manage sales and service in a company selling agricultural and municipal equipment
Atollon has unified our processes and sales and service departments around customer, order and technical records.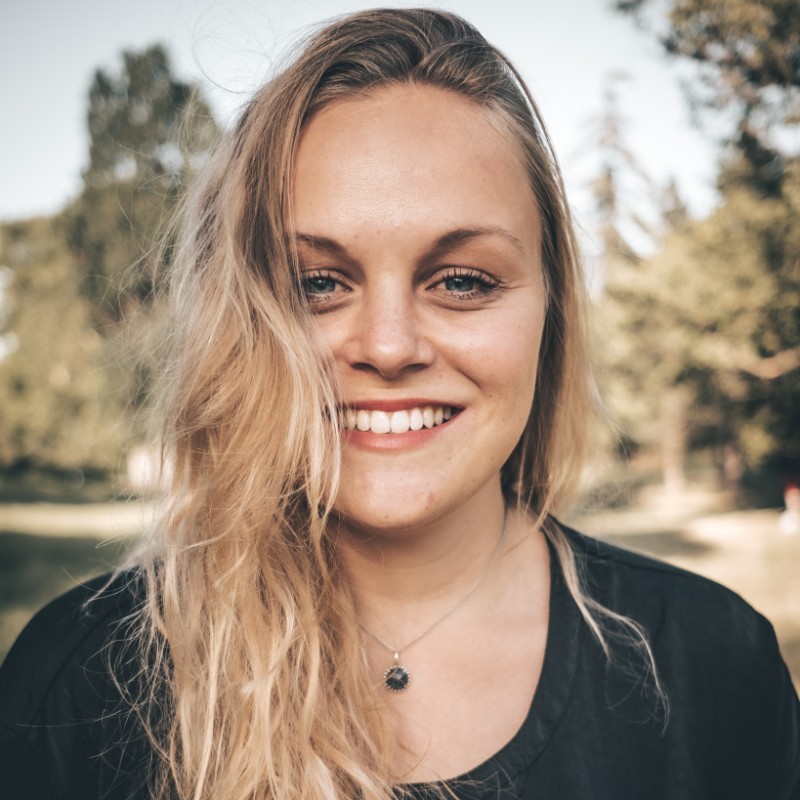 Nikol Hejlickova
MALCOM Marketing Manager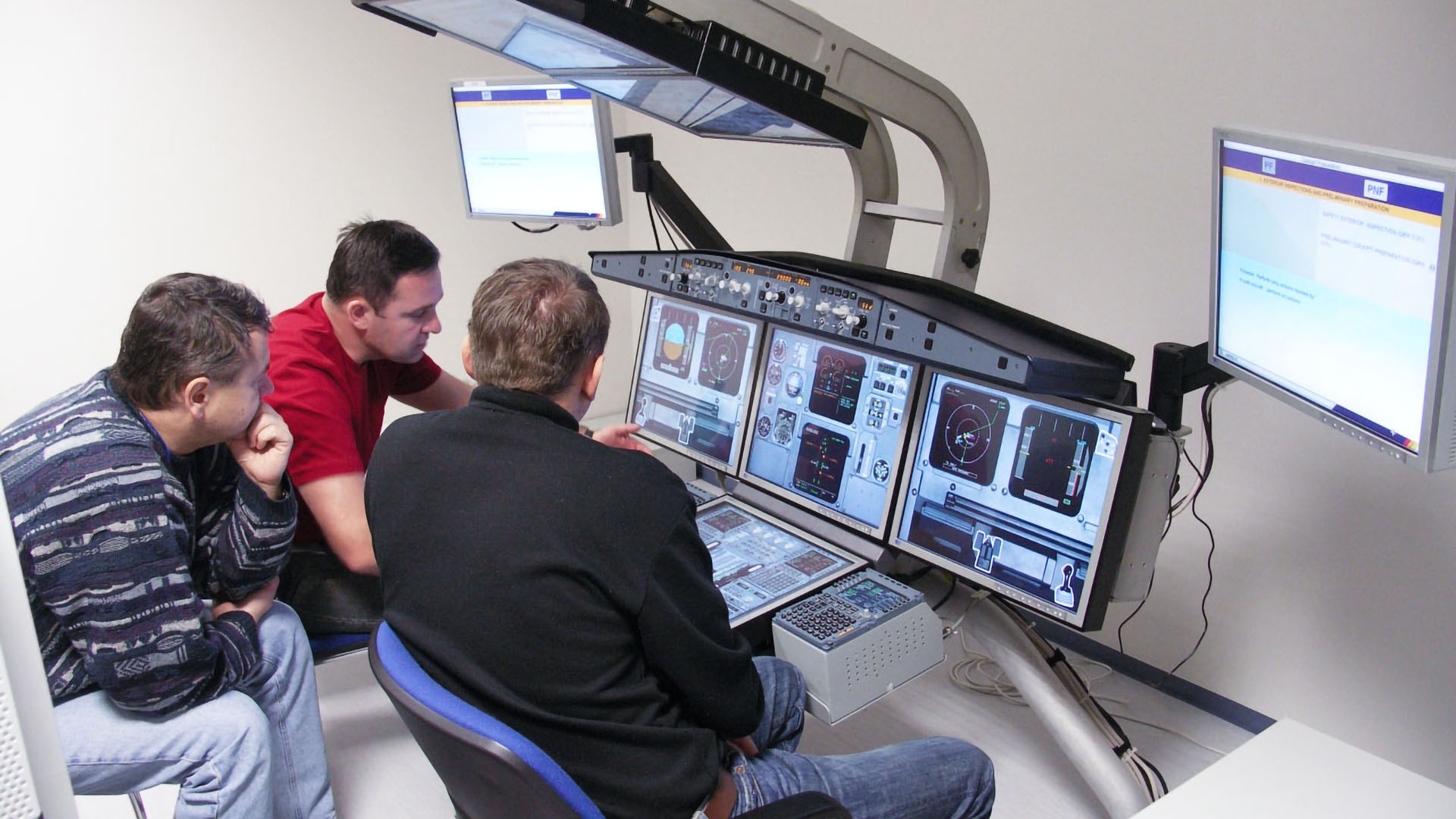 How we became a business partner for the Czech Aviation Training Center (CATC) - the largest Czech school for pilots
"The deployment of Atollon has enabled us to unite individual professional and specialized teams across the company and at the same time significantly speed up the process of passing, processing and resolving each type of business case across the company, while ultimately benefiting the customer."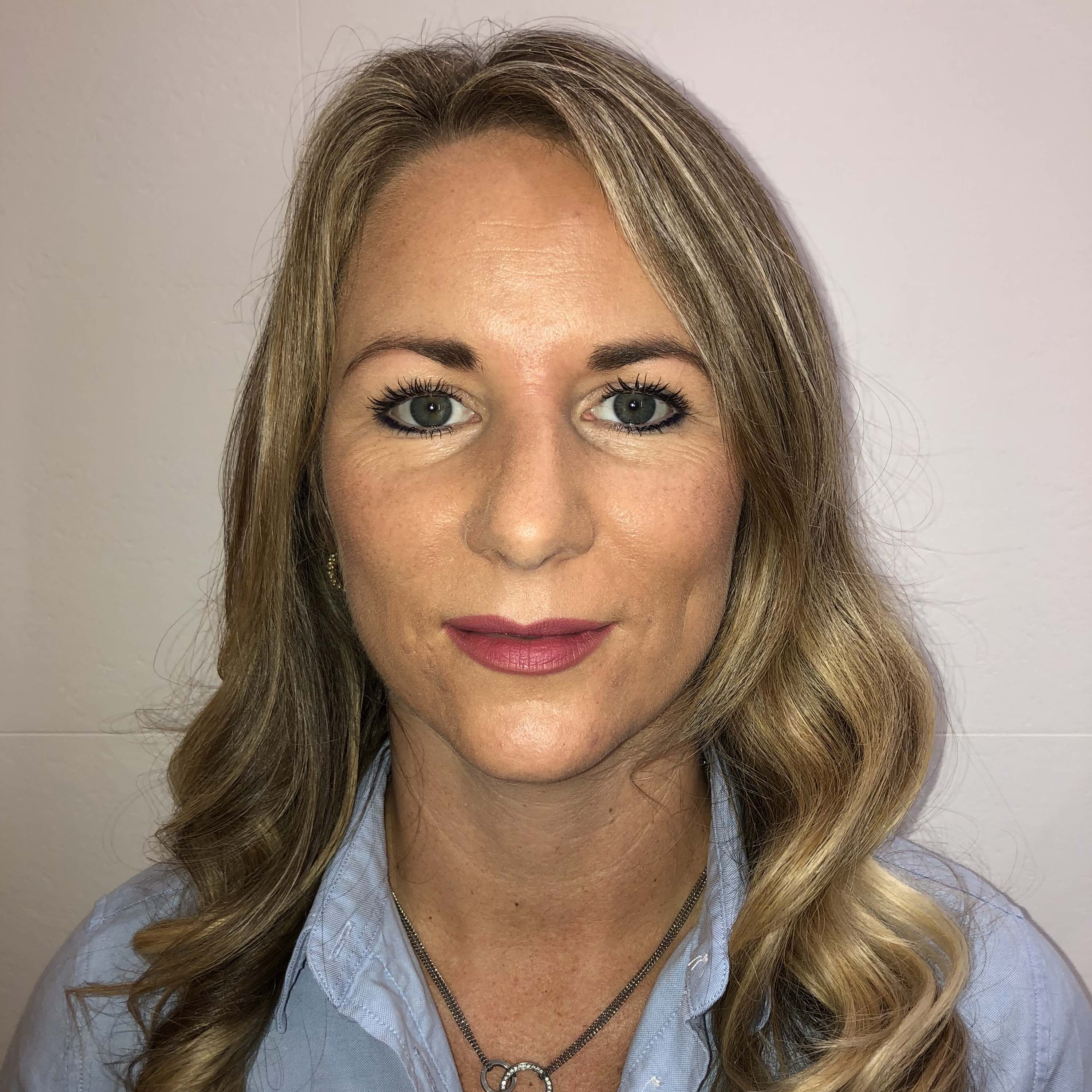 Kateřina Unzeitig
Atollon superuser