3x more orders thanks to targeted calling
ATOLLO_ARTICLE | Obchod a marketing | 10/11/2020
Does your stomach clench when you pick up the phone and call a cold business contact? No one is looking forward to a job in which they are forced on customers. Still, you need to reach clients who need your service or product. We need new clients, we need to grow, provide a livelihood for the company or compensate for the loss of income from clients we have lost.
Can you effectively engage your business professionals?
Atollon, we are constantly thinking about how to increase the productivity of a salesman - an expert who is not typically effective in making cold contacts. How do we do it? We separate the grain from the chaff. We eliminate inefficient phone calls and, conversely, identify opportunities that need to be seized immediately, otherwise they will escape. Thanks to Atollon, retailers can focus on customers with higher shopping dynamics.
On the contrary, the advantage of hiring an expert in the business process is a significantly higher chance of gaining a new customer.
How do we achieve this?
a) We monitor marketing triggers
Do you send bulk messages by e-mail?

Do you keep in touch with your customers through personalized e-mail communication?

Can you identify a repeat visitor on the site?

Have you invested in a registration website?
In your business, you want to focus primarily on customers who are more likely to be interested in your products and services. You will probably be more successful with customers who visit the site regularly, click on links in e-mails, often return to the e-mails you send them, etc.
Atollon tracks the movement of identified users of your site, and based on marketing triggers (events transferred to the client's timeline), Atollon can schedule a task to the responsible salesperson.
Let's say that your customer has added a phone number to their profile on your website or watched a video demonstration of your great service, or clicks on product pages of a certain category. It is advantageous to monitor this information in CRM and, based on predefined events, pass the task of contacting the customer to the call center queue to salespeople.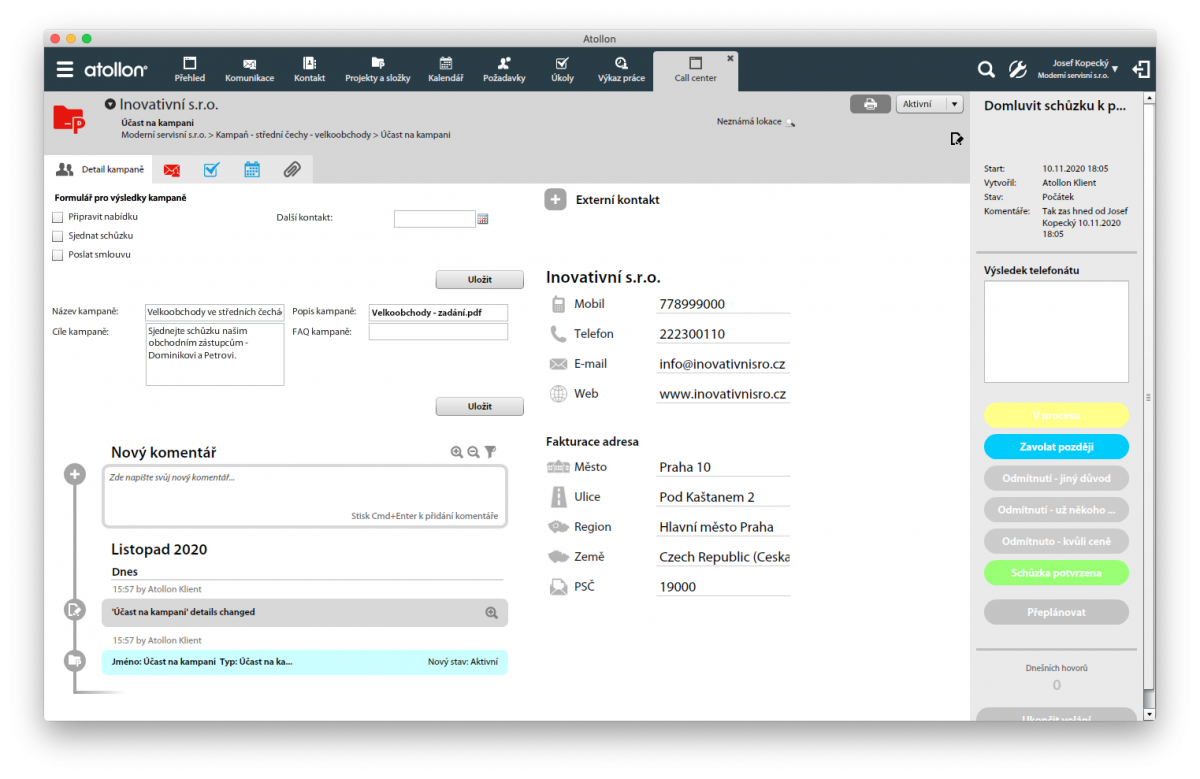 Similarly, you can use the database of customers who are in the research phase and monitor their behavior - opening e-mails, clicks on specific URLs in e-mails, etc.
b) We increase the productivity of salespeople thanks to a new call center
Do your salespeople take care of both existing clients and the acquisition of new clients?

How long are your salespeople able to focus on calling and how powerful are they?
Atollon, we connect various customer care departments. The salesperson can give priority to caring for existing clients and, if there are not enough of them, help with calling "preheated" contacts for new customers. Atollon's single Outbound call center tool can handle both at once.
If the trader needs to prepare offers in silence during the day and finds 2-4 hours a day to make calls, Atollon will help him serve identified calls to clients / potential clients / by calling for feedback within ongoing tenders, etc.
The Atollon Outbound call center allows the trader to focus exclusively on the call at the moment and helps him maintain a high pace of calls. Atollon has the potential to multiply the number of contacts that a trader can make in 1 hour of work. Postponing the call to a later hour, indicating postponement, disinterest or, conversely, successfully arranging an appointment, which Atollon will handle "on click" will immediately move you to the next call.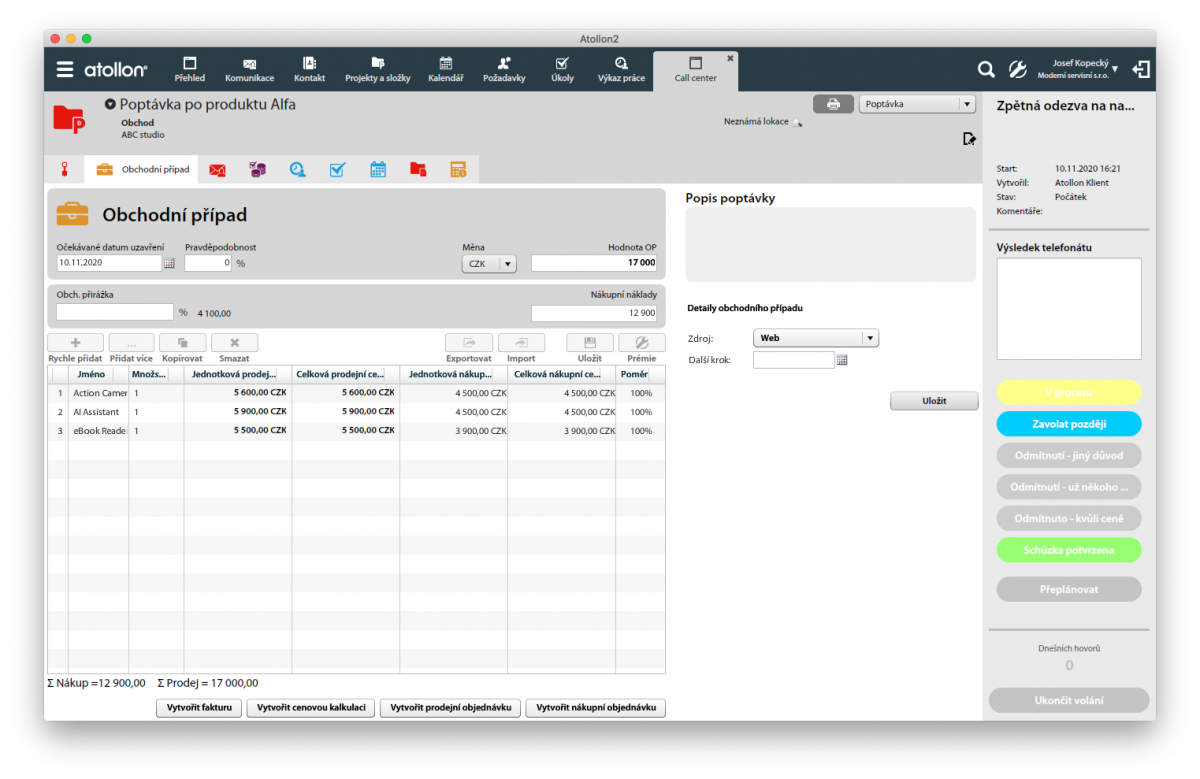 As with everything Atollon produces, the new Outbound call center is fully adaptable to the required workflow. Both in the process of the call itself and before the call is established. Phone calls can be made based on many events, such as:
Generating a phone call based on a marketing trigger (a website visitor clicked on a video)

Generating a call based on the assignment of a contact in the database to the campaign

Manually assign a call task to a salesperson or queue, where the first person to have free space will call
Atollon's new call automation tool allows you, among other things, to make significant better use of your existing business capacity to acquire new customers. In addition, marketers - professionals will love the tool as it will help them bring results.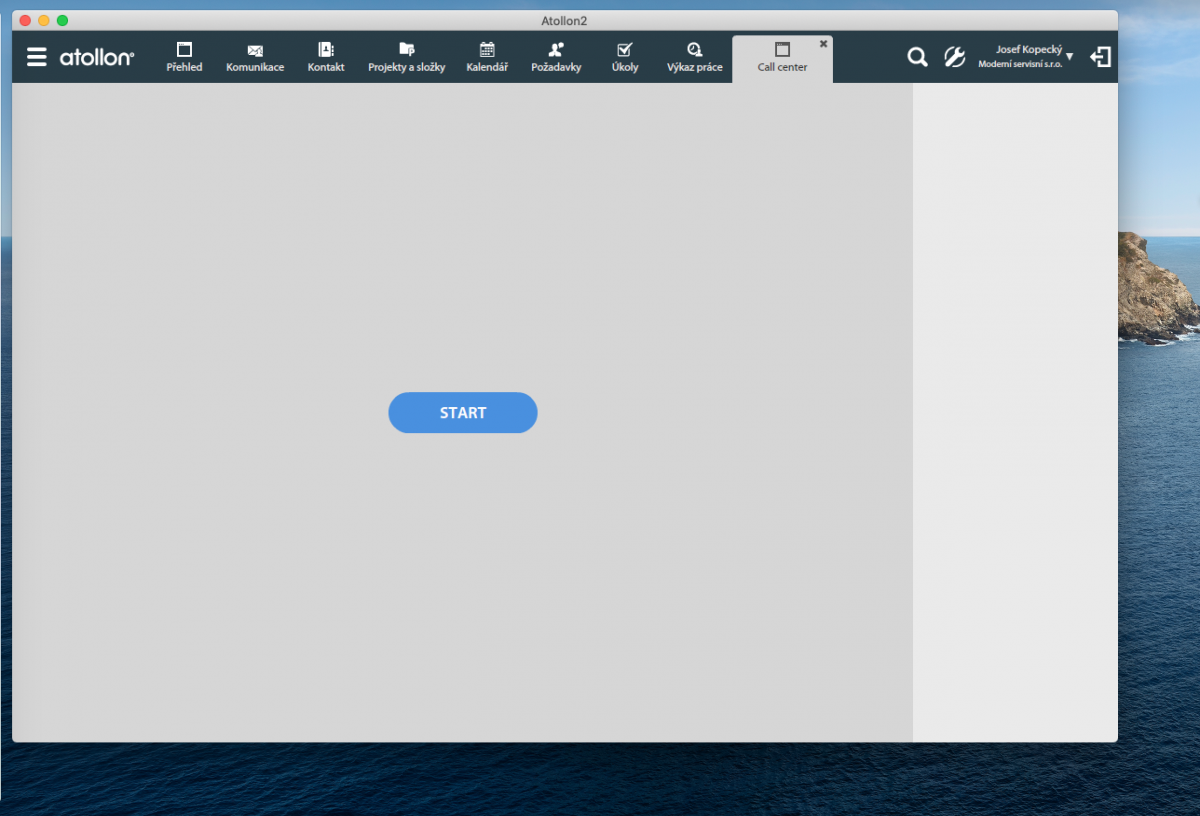 The new Atollon Outbound call center tool is available for users in the Atollon Professional profile from CZK 800 / month. Monitoring responses to e-mail correspondence is included in the price of all editions of Atollon. The link to the website must be made in cooperation with the existing supplier of your website and may represent a one-time cost.
What ways do you choose to improve the use of the business potential of the people in your company? Do not hesitate to contact us, we will be happy to be inspired and if you are interested, we will show you what we can do today.
Easier automation
We have completely innovated the tools with which Atollon's power users automate routine activities and business processes.
New Workflow administration
We have clarified the settings of the automata that are used in the Atollon instance to manage routine workflow activities. It is especially suitable for customers who completely automate the management of business or implementation processes using Atollon Workflow.
Setting timed actions
We have developed a user interface with which you can set the parameters of timed actions yourself. What is it good for?
Do you want to send automatic reports to system users?
Do you want to send emails to clients at predefined intervals?
Do you want to ask the client / applicant for GDPR consent?
Do you want to send invoices to clients automatically?
For some of the functions you have available in Atollon tools / actions directly, some require the installation of the Workflow plugin. We will be happy if you contact us with a question on how to automate your processes and routines. We will be happy to advise you and propose a solution!
Custom Workflow Plugins
We have Workflow Plugins for the specific wishes of our customers. Currently, several dozen plugins support "tailor-made" automation using Atollon - from marketing, through sales, order execution and service, to invoicing.
Thanks to the automation of processes, you can focus on the conceptual development of the company and not waste fruitless time with burdensome activities. Our customers, who are constantly innovating their processes over Atollon, are doing very well even in a crisis. Because they have time to think more strategically and are less bothered by daily routine. Business is more fun for them.
You can learn more about the latest innovations in the field of customer-oriented business process management on our wiki (in English):
Atollon Inovace 2021 (8. týden)
Atollon Workflow functionality is available for Atollon in the Advanced and Ultimate editions. You can find the price list of the service online.
Gain powerful help to increase your turnover
Try Atollon Outbound call Centre
Atollon helps increase sales performance to some of the most successful businesses. Join them.