Design your own app
Atollon Article | Blog o produktech | 12/10/2021
1. Is your business process specific and you haven't found the right application for it?
2. Do you consider Custom development to be costly and time consuming?
3. Do you expect more from the new application than just data entry? 
4. Do you want an active system, including workflow automation, email and internal communication, documents, tasks, custom forms, financials?
5. Do you need to set access permissions according to user roles?
6. Do you want to generate own documents within the process?
7. Do you want to be able to report on the progress and results of your process?
8. Do you want to extend your own application with specific application logic or make a custom plugin?
New tool for creating your own applications
With ATOLLON's new custom application development tool, you can digitize and automate any customer- or internal-facing process in your company in a fraction of the time and cost of competitors or in-house development.
We have capped two decades of development by creating a tool that allows you to create any application to manage client relationships, project or service management and related documents and activities.
Examples of use
Tracking business cases of all kinds
Managing general and specific orders
Managing service activities
Tracking contracts and related terms and conditions
Tracking and resolving requests, orders, complaints
Tracking tenders or purchases
Administration of internal processes of the organization
Recording technology or product documentation
Your own development initiatives...

Application by the next day
We are able to deliver most applications supporting a selected business process almost literally within the next day. From small companies with basic business records deployed according to pre-made templates to industrial giants with requirements for administrative automation, everything is manageable in one platform within days or weeks.
Integration of new processes into the existing structure
Compared to the commonly available modern tools for express creation of custom applications, ATOLLON stands out because of its sophisticated structure of contexts in which it can include new applications. Thus, each new customer-oriented process does not run in isolation from the company's operations, but perfectly complements all processes related to clients, business, order management and the provision of great service.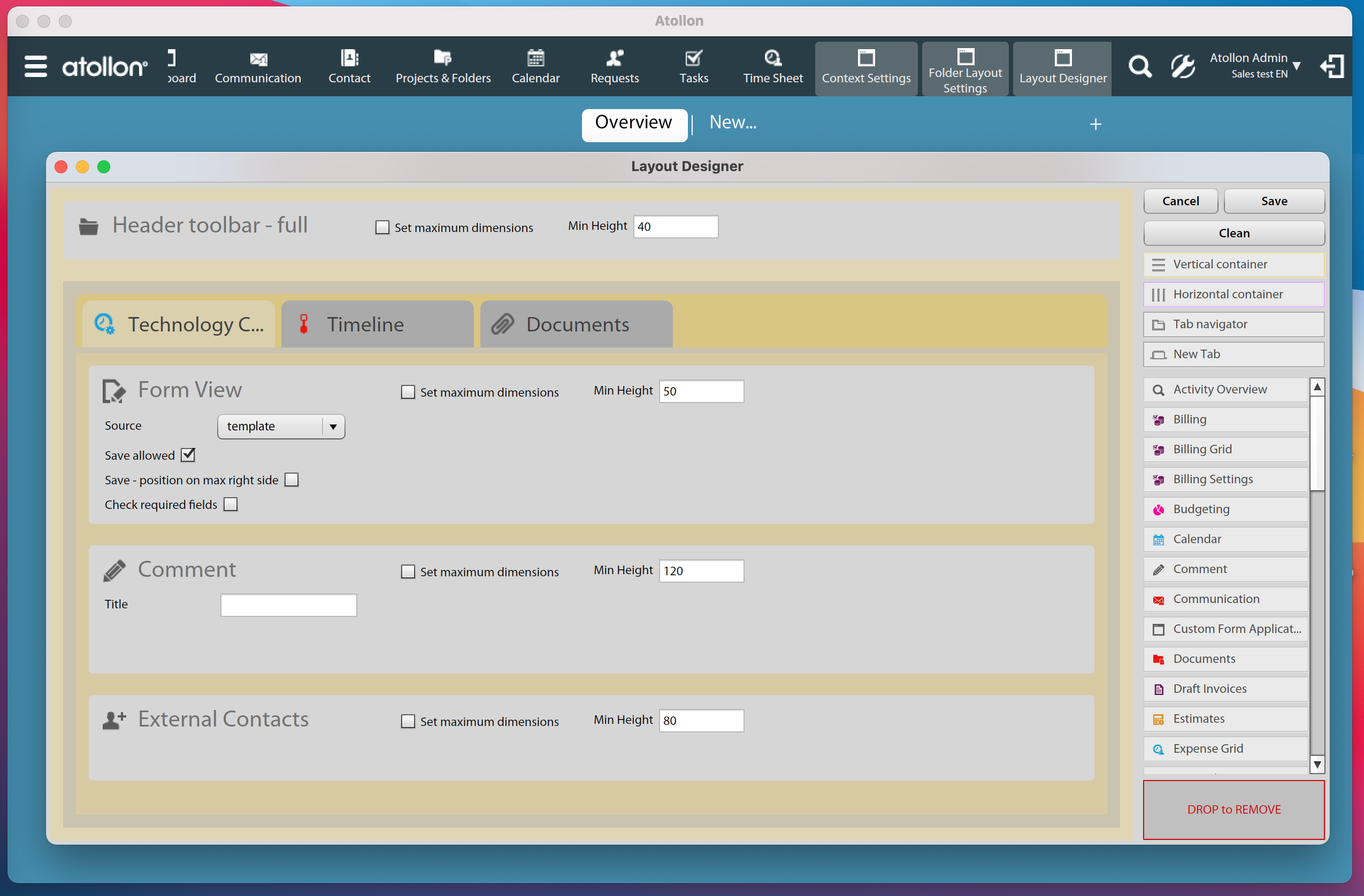 Try ATOLLON for free
Custom apps designer belongs to the family of tools that allow you design and use your application within days, not weeks.
Create your own app today
Layout designer
Visually design detail of your record (project, activity, order, document, etc.)
Forms designer
Extend your app with unlimited custom fields.
Reports designer
Create any views on data from your custom app.
Document generator
Create any document(s) in PDF, MS Word or MS Excel formats.