Increase business performance with automated reports
Atollon Article | Obchod a marketing | 03/09/2021
Here are some tips on how to improve the results of your sales and other activities by making your weekly reporting routine easier.
Still preparing weekly business reports "on your knee"?
Do you spend too much time preparing reports?
Do you find it difficult to get the data you need for reporting on time?
Does your reporting routine take energy that you would like to invest elsewhere?
We are trying to answer these questions with new reporting automation tools. Together with the individual approach to the requirements of each ATOLLON user, this has been a challenge so far.
The new reporting automation tool
Not so anymore. In the new edition for summer 2021, ATOLLON allows you to install a plugin that automatically handles the reporting routine for you. And it never gets tired of doing it. It never "forgets".
Introduce two-step reporting
If you want to maximize the benefit of automated reporting and minimize the effort to achieve it, implement two reporting phases. The first will be directed to the people who primarily capture the data and the second to management.

First stage people to the front line
Thanks to the workflow tool for automating the sending of reports, you can select a report or "report pack" - a set of reports that you first send at set intervals to your salespeople, consultants, technicians - i.e. all those who acquire the primary data for reporting.
The second phase of people in command
In the second round, you then send the outputs to the company management (head of sales, service/delivery/customer support, etc.).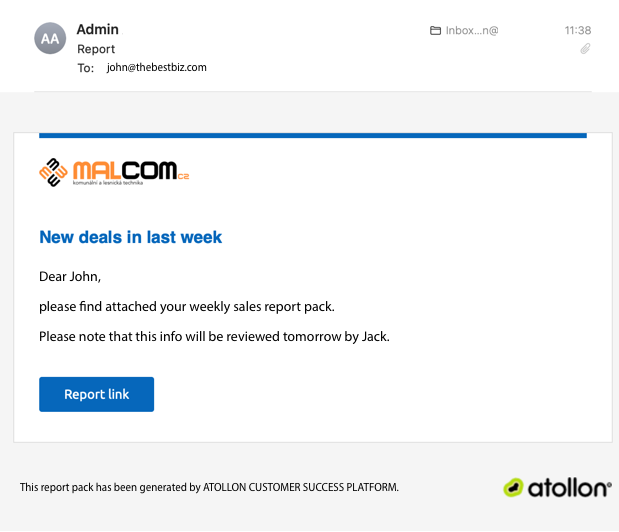 What are the side effects?
Two-phase reporting ensures that the weekly (14-day/monthly) report reflects the true state of your business dynamics. The people who primarily capture the data will be notified that they have their own inputs to "correct" for company reporting, also knowing that the next day the boss will look at the results.
Increased turnover
Salespeople will be motivated to increase their efforts as they more systematically focus on new KPIs - i.e., business acquisition efforts - picking up the number of phone calls, increasing the number of scheduled client meetings, etc.
Improving system usage
System users will be more motivated to use the system (making it more likely that you will keep important business information in-house)
Why wait?
Set up automated reporting with your ATOLLON consultant today! This functionality is available in the Atollon Advanced and Atollon Ultimate editions.
Contact us