Easier automation of business processes
ATOLLO_ARTICLE | Blog o produktech | 11/03/2021
In the latest edition of Atollon for Spring 2021, we bring you a number of innovations to improve your business performance and quality of service. In recent months we have focused on simplifying the tools that allow our customers to configure workflow actions and automate routine processes. By automating every process, we are taking the burden off of both operations and management people. And it creates the space to get better results. It allows people in the company to focus on activities that deliver value to end customers. Time and energy can be freed up to win new business.
Easier automation
We have completely upgraded the tools that Atollon power-users use to automate routine activities and business processes.
New Workflow administration
We have clarified the settings of automats that are used in the Atollon instance to handle routine workflow activities. They are particularly useful for customers who use Atollon Workflow to completely automate the management of business or delivery processes.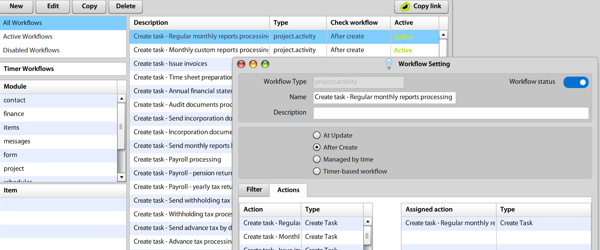 Time-triggered action settings
We have developed a user interface that allows you to set the parameters of time-triggered actions yourself. What is it good for?
Do you want to send automatic reports to system users?
Do you want to send emails to clients at predefined intervals?
Do you want to ask the client/applicant to provide GDPR consent?
Do you want to automatically send invoices to clients?
For some of the functions you have tools/actions available directly in Atollon, some require the installation of the Workflow plugin. We would be happy if you contact us with questions about how to automate your processes and routines. We will be happy to advise you and suggest solutions!
Custom Workflow Plugins
We have Workflow Plugins for specific requests of our customers. Currently, dozens of plugins support "tailor-made" automation with Atollon - from marketing, to sales, order fulfillment and service, to invoicing.
Thanks to process automation, you can focus on the conceptual development of your company and not waste time on burdensome activities. Our customers who continuously innovate their processes over Atollon are doing very well even in a crisis. Because they have time to think more strategically and worry less about the daily routine. Business is more fun for them.

Product Innovations for Week 8 2021
Find out more about the latest innovations in customer-oriented business process management on our wiki.
Atollon Innovations 2021 (Week 8)
Innovated ATOLLON Workflow
Atollon Workflow functionality is available for ATOLLON in Advanced and Ultimate editions.
ATOLLON Price