10 innovations to boost your business performance in summer 2020
ATOLLO_ARTICLE | Blog o produktech | 05/08/2020
We're bringing you a fresh batch of innovations to inspire you to kick-start your business and increase productivity in order fulfillment. This year, we're focusing on ambitious projects that automate business processes linked to the delivery of quality services. Key processes leading to rapid business growth include supporting new customer acquisition (lead management), business case management, project execution and service activities, to automating invoicing.
What innovations are waiting for you at Atollon for Indian Summer 2020 and what can we work on together? We will take you through the innovations step by step and use the typical client's life journey as a guide.
Lead Management and Client Acquisition
Getting clients is a struggle even in quieter times. At Atollon, we provide our clients with the backing of a robust server platform that has been in continuous development since 2000. We enjoy working on projects that completely automate routine tasks across the client lifecycle and drive the business forward through well-organized processes and high-quality service. The sophistication and maturity of the system makes it a little easier every year to completely digitize and automate the firm's key business processes.
Integration with the company website
If you intend to provide your services online and connect your website even more with your CRM system, we have prepared new documentation with integration examples: https://help.atollon.com/books/atollon-api. Here it's up to your imagination and vision how you want to excite your customers.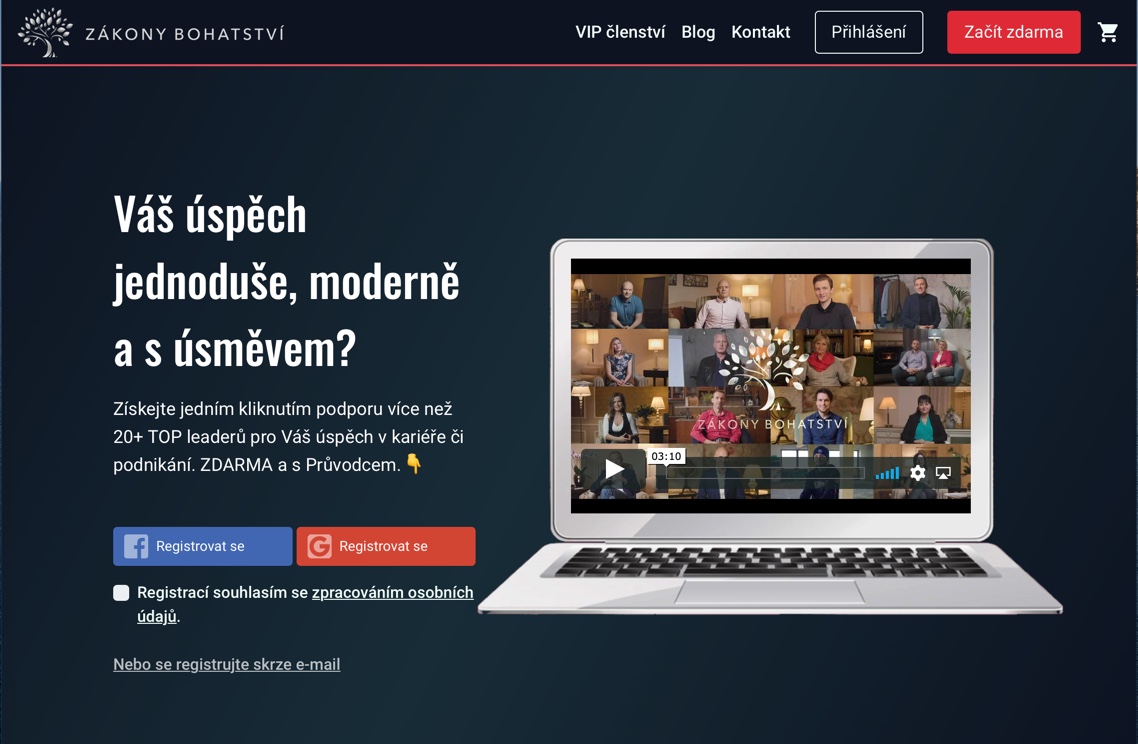 Call centre automation
A new feature is the upgraded integration of Atollon to the Spinoco call centre, which we refreshed after changes on the call centre and Atollon side. Calling tasks are part of a configurable workflow. It will allow you to integrate call takers/salespeople into the business process to take care of the customer whenever it is beneficial for the customer. Call tasks can be created at any time in the customer's interaction with the company's website, during registration, inquiry, within 5 days of inquiry, after service delivery, etc. This will make the work of the call takers/salespeople much more effective.
Improved import tool for contacts
Our clients wanted us to import tens of thousands more clients, so we improved our contact import tool a bit. It's more convenient, solves potential duplicates better and allows you to set up and resolve everything in one step. Previously, company and person contacts had to be imported separately, but this is no longer necessary.
Deal Management and Business Case Management
At Atollon, we have completely overhauled the way in which the value of a business case is recorded. It is now possible to include any form you want in the process of calculating the value of a business case, containing various forms of calculating commissions, discounts, etc. With a single button, the resulting calculated margin and price will then appear in the value of the business case. In this way, we believe we increase the productivity of salespeople and reduce the risk of error.
Automatic appointment setting
With the integration of the new CalDAV tool, we are now enabling clients to completely automate the appointment setting process between salesperson/consultant and customer. The customer can select the available calendar time slots for the salesperson themselves. We make use of the elegant Harmonizely tool, which is available free of charge. Putting the functionality into practice is a matter of a few clicks.
Project Management
More comfortable working with documents
It is now possible to pull documents and message attachments into the system with the mouse. A minor innovation, but one that will greatly help productivity.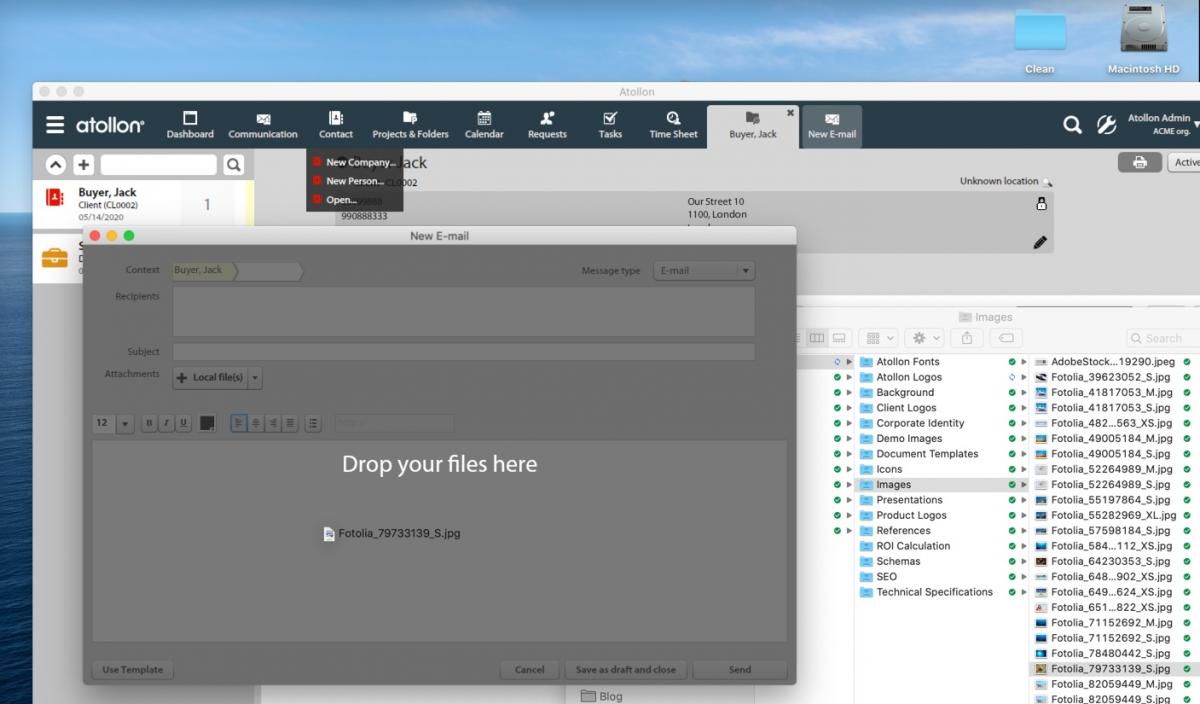 New component for working with images
If you want to attach photo documentation to projects (or folders and activities), you now have a brand new convenient tool. Images can be shared, emailed, and most importantly, displayed in relation to your project.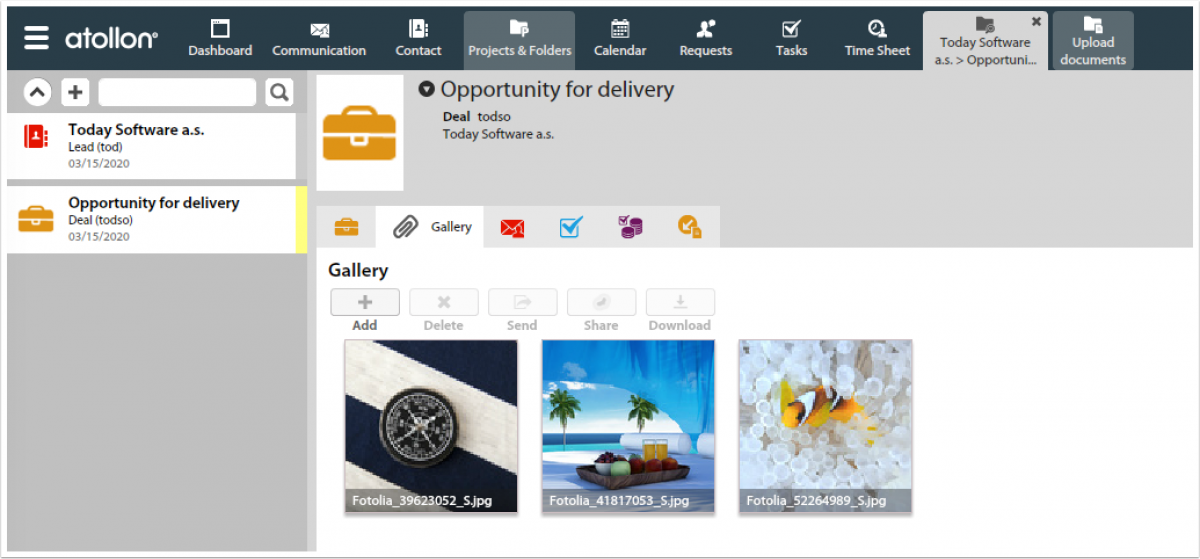 Improved map component
If you need to put the location of a project or service activity on a map, an innovative component that can find the address of your location almost anywhere in the world will help you. The icing on the cake is the ability to get an overview of job turnover on the map. This will answer the question of where it's working well and where it needs work.
Service management
Service activities
A completely new functionality of Atollon is the work with service activities, which allows to track the client's request from the input to automatic invoicing. It is possible to communicate, save documents (and images), and perform tasks during the execution of service activities. When completing an activity, record the material used, the work and expenses statement and have it electronically confirmed at the end. This allows the client to receive a signed order sheet in an email. Everything is wrapped in a user-friendly interface to make working with service activities convenient for the field worker.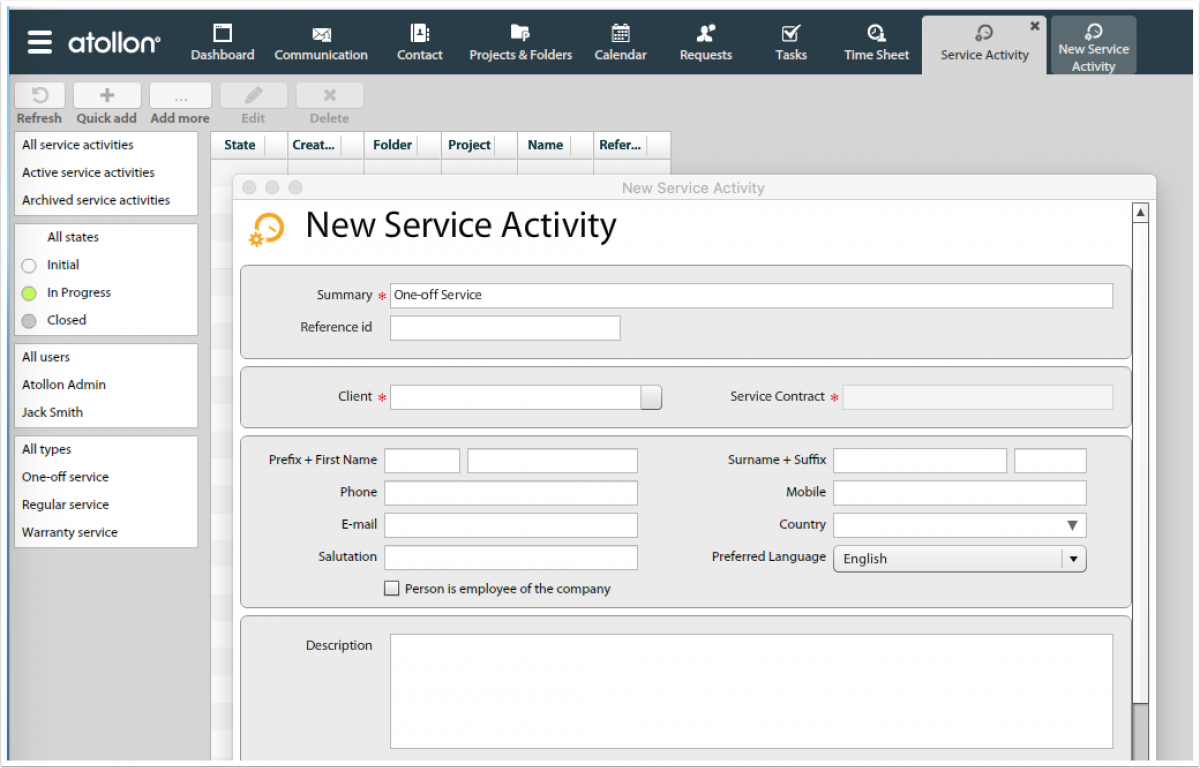 Billing automation
Automatic sending of invoices
In the latest edition of Atollon, we've already made Atollon billing a perfect automat. After many years of development, we finally allow clients to not only create and approve a draft invoice, but also to automatically send the invoice from the system at the end of the process. In order to achieve this, we had to completely rewrite the printing tools, and now the invoice or order sheet, for example, is generated on the server and sent to the client for payment together with the accompanying email.

Other innovations
The above list of major updates is supplemented by dozens of minor innovations, which you can find in our wiki. We'd be happy to talk to you about initiatives that will improve your company's performance and service quality. Your team at Atollon.
ATOLLON 2020 innovations