Orders delivery
Quality results are the essence of a healthy customer relationship. With tools for tracking and managing the execution of orders and projects, you can ensure consistent results of your operations. You won't forget important steps in the handover process, keep job documentation (including photos) in one place, and you won't miss important deadlines. By measuring people's time on a project, you'll improve your ability to avoid losing money on a contract.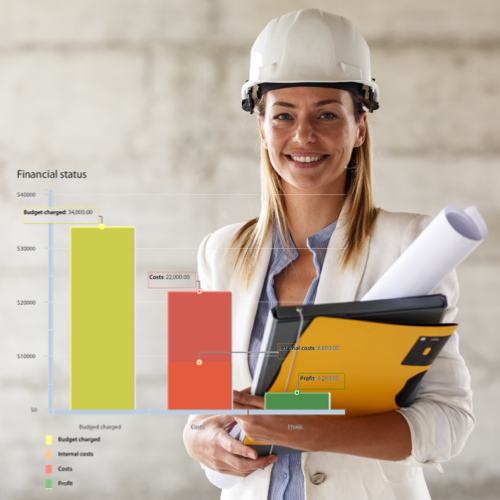 Information in one place, available anywhere
With ATOLLON, you get an overview of the execution of orders throughout the company, while also capturing the information between the lines (or numbers). Unlike a conventional information system, which looks at the order in a transactional way (costs, revenues, deadlines), ATOLLON allows you to involve the whole company in the execution thanks to its collaboration tools.
Your Swiss Army Knife for smooth execution
Whenever you need an additional tool for order execution or project tracking and management, you can reach into the ATOLLON component library for help. The palette is extensive, from collaboration tools (communication, tasks, documents, calendar, forms) to hard data (budgets, timesheets, schedules, purchase orders, invoices).
Digitise your unique processes
With ATOLLON, you can easily create your own application for order management that meets the exact needs of both the order management process and the individual roles of your employees. Custom forms, reports, project components, workflow and advanced reporting.
What you don't measure doesn't grow
In addition to the usual views of profitability, including management controlling of the contract linked to your accounting, it is possible to analyze soft data - communication, tasks, plans, etc. Using ATOLLON Business Intelligence, you will be able to plan any measurable criterion and compare it to reality, allowing you to manage your business based on data.