Management of team productivity
11/12/2013
Motto: "To improve performance, then you must start to measure".
For the 2013/14 Atollon winter issue, we have developed a function for easily measuring the functions of individuals (which, of course, was also possible up to now), as well as individual teams, divisions, organisational units, etc. You can find which team generates the highest revenues and has the highest work costs, etc.
All functions concerning finances and staff performance (measurement of costs and revenues) now supports the settings for economic centres (en: Tracking Categories). Individual employees can be assigned into centres via employment contracts All records in log sheets, price calculations, invoices, etc., are produced with information about the economic centre. Economic centres can be set in many ways, including assignment of the staff centre with validity from ... to. Any change in the team / centre can be handled very easily.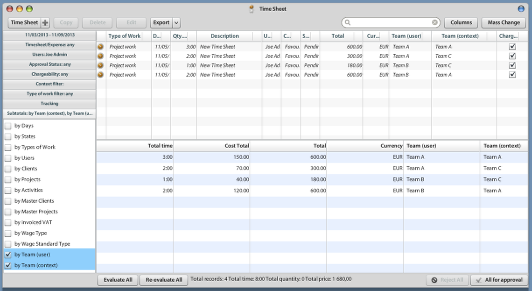 Economic centres can also be set in relation to individual clients or projects. Information on "ownership" of the project or the client by the team is also recorded in the log sheet. So, it is easy to monitor how individual teams or divisions participate in projects and to re-book internal costs to the care of clients or jobs.
 
Would you like to set the monitoring of employees and their work reports according to their economic centres?  Read the manual (in English) or contact your Atollon consultant.