Discussion over e-mail
11/24/2017
Email has been around for quite a while. More then twenty-five years ago, people were already using email and since then it has become a standard form of communication. But we all know that email is not all mighty. In Atollon we want to keep using email, but we don't want to overuse it. Starting a new day with thousands of emails is simply not our cup of tea. We can imagine a better start to the day. :)
Thankfully, a new era of email is here
With just a little exaggeration we can say that it was necessary to re-invent email communication. In Atollon, we decided to create a discussion over the emails.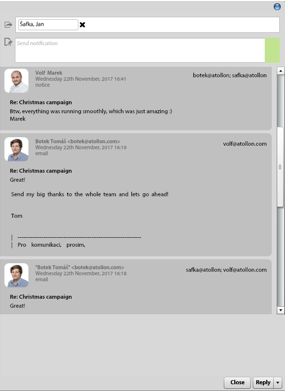 Just imagine...
Imagine that you receive an e-mail, and instead of sending a reply (which would normally mean another email issued in one or more copies) you simply start a discussion that is interconnected with this e-mail. Without new emails though without more e-spam, in very clear form you can fit whole thread to given topic.
So, his new function has been just enabled for Atollon users! Enjoy!
Such smart features will keep coming in the future too, since here we can see one dimension of the motto "Powered by Atollon".